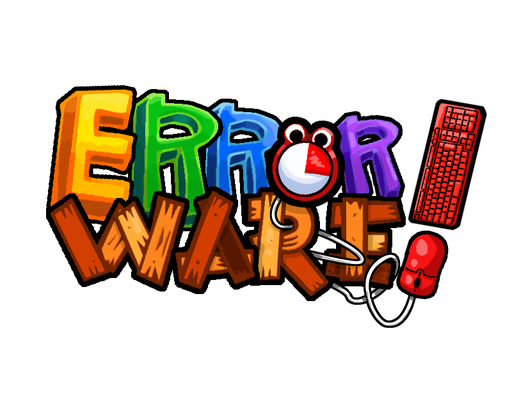 So the trailer said "summer"... But it´s October now! Sorry ´bout that! Anyways, "Error Ware" is out now! Get it for free on the updated Error Ware page.
There are two versions: Full Version and Lite Version. Full Version is recommended, but if it´s not working on your machine, try the Lite Version which uses a little less memory.
Also, check out these instructions to learn how to play Error Ware (and future games) witch a Wii Remote!
By the way, we updated all the other game´s pages, too. The games are now hosted by Dropbox and we added German descriptions to some of the games.
Have fun!

Der Trailer sagte "Sommer"... Aber es ist schon Oktober! Tut uns leid! Wie auch immer, Error Ware ist jetzt endlich fertig! Hole es dir auf der aktualisierten Error Ware-Seite.u
Es gibt zwei Versionen: Die Vollversion und die "Lite"-Version. Wir empfehlen erst die Vollversion auszuprobieren. Sollte sie nicht auf deinem Computer laufen, probiere die "Lite"-Version aus. Sie benötigt etwas weniger Arbeitsspeicher, verzichtet aber auf einige Zusatzinhalte.
Schaue außerdem mal auf dieser Seite nach, um zu erfahren wie man Error Ware (und zukünftige Spiele) mit einer Wii Remote spielen kann! (Anleitung auf Englisch)
Wir haben übrigens auch alle anderen GameZ-Seiten aktualisiert. Die Spiele befinden sich nun auf einem Dropbox-Server und es gibt teilweise deutschsprachige Beschreibungen!
Viel Spaß!