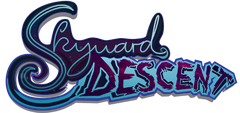 You can now play Skyward Descent, a free twin stick shooter style browser game by Brandon Lea!
I created the logo & soundtrack for this project in the past few months and had a great time working with Brandon.
Check out the game on itch.io or Newgrounds
 and follow Brandon on Twitter for more games!
I'll release the full soundtrack album for free very soon, so keep an eye on the SoundtrackZ page!